When we think about celebrities, generally we imagine over-the-top mansions, worn-once high end fashion, stretch Rolls-Royce's, and private jets to Europe. Everything just seems shiny and perfect.
But, believe it or not, a lot of our favourite movie stars are down to earth people just like me and you. They enjoy the simple things in life like good food, good friends, and YES, even fishing.
There are a few celebs on this list that may surprise you, and there are a few that you always wondered why you found them so appealing. Well, now you know why.
Harrison Ford
Topping off this list is Mr. Blade Runner himself. When he's not chasing down the man who framed him for murder or saving the galaxy from the Empire, you can find Harrison Ford kicking back and trying to land the big one.
Kevin Costner
This is no photo opp. The star of such films as Field of Dreams and The Bodyguard (we won't mention Waterworld) has been an avid angler since his younger years and would dip his line into a puddle of mud if he thought there was even the slightest chance of snagging a fish. A man after our own hearts.
Avril Lavigne
This one's no surprise. This pop princess hails from the shores of Lake Ontario and made her claim to fame as somewhat of a tomboy. Of course she fishes, and since she was a kid no less! Maybe her newest hit "head above water" is about ice fishing?
Jimmy Kimmel
Anyone can take a picture posing on a boat or holding a fishing rod, but there's no questioning Jimmy Kimmel's angling skills with this video. Although he's interviewed hundreds of A-List celebrities and has hosted the Emmy's on more than one occasion, Jimmy's just one of those guys you know would be cool to sit down and have a beer with.
Chris Pratt
Our favourite Guardian of the Galaxy (sorry Groot) is seen here doing what we love most: fishing with his family. We've seen Chris Pratt share the screen with starlets such as Aubrey Plaza, Megan Fox, and Jennifer Lawrence, but we've never seen a more authentic smile than right here fishing with his son. Way to be a role model Chris!
Hugh Jackman
Hugh Jackman may be from Australia, but his most popular character - Wolverine - is Canadian. Perhaps his role as the clawed hero is responsible for his love of fishing and boating. Regardless of the source of his passion, it's clear that this hobby calms his soul, as it should.
Brad Pitt
We're not sure if Brad Pitt has always been an avid angler, or if he picked up his skills while filming "A River Runs Through It". But, we are sure that no matter how rich you are in life there's nothing more valuable than spending time with your family, and that's what we're seeing Brad do here with his son Pax.
Tiger Woods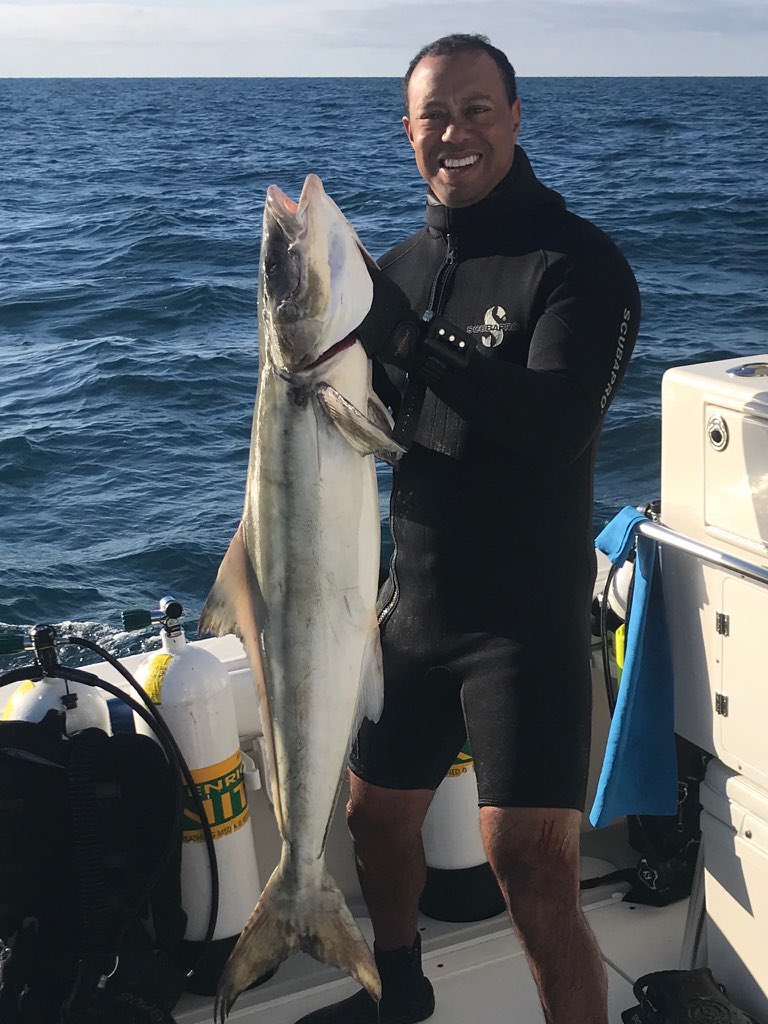 Tiger posted this picture on twitter with the caption "Happy Birthday To Myself :)". Fishing can be a deeply personal experience bringing with it excitement, passion, and clarity. What a great way to celebrate a 42nd birthday, or any other day for that matter!
Blake Shelton
Hit records are fairly common for Blake Shelton. Not so common is the 40 pound paddle fished he reeled in from Oklahoma's Hudson lake. Locals will probably contest that this is the lake's biggest with rumours spreading that 100 pounders have been pulled from the water. But, on paper, Blake is the champion. Just another item that this The Voice judge can add to his list of accomplishments.
Rihanna
Rihanna is best known for her R&B hits and iconic fashion choices. Seeing her on screen or live in concert it's clear that she was born to be a star. But seeing her here she seems much more like a natural born angler. This particular photo is from her 2015 trip to Hawaii, but with a simple Google search you'll find plenty of pics of her on a boat or with a rod all over the world.
Barack Obama
The 44th POTUS lead his nation through the de-escalation of military tensions with Russia, ending the terror regime of Osama Bin Laden, and reducing the Iran's threat of nuclear hostility. If anyone deserves a day off fishing it's this man. This picture is proof-positive that there's no better way to relax than a day our fishing with your friends.
Oprah Winfrey
How do you relax when you're a media executive, actress, talk show host, television producer and philanthropist? You go fishing of course! Multi-Billionaire Oprah Winfrey shows us that we're all the same deep down.
Scroll through these photos one more time.
Notice anything they have in common?
Each and every photo has a genuine, happy smile. They have memories being made, and that's what we're all about here at Legend Boats. No matter how rich or how poor, a day out on the boat with your friends and family is something that we can all enjoy.